Product Description
Customized Universal Rigid stainless groove coupling Irrigation Compression Fittings
Product Description
Technical data
| | |
| --- | --- |
| Part | Material |
| Body(A) | (PPB)Ploypropylene(PP-B)of exceptional mechanical properties even at high temperature |
| Blocking bush(D) | (PPB)Ploypropylene |
| Nut(B) | (PPB)Ploypropylene with dye master of high stability to UV rays and solidity to heat |
| Clinching ring(C) | (POM)Polyacetal resin(POM) of high mechanical resistance and hardness |
| O ring gasket(E) | (NBR)Special elastomeric acrylonitrile rebber(NBR)for alimentary use |
TYPE C
SIZE
Weight
pcs/ carton
Product name
Code
(g/pc)
MALE THREADED COUPLING
E1004 
20*1/2
27 
600
20*3/4
29 
600
20*1
31 
560
25*1/2
44 
360
25*3/4
45 
360
25*1
46 
330
32*1/2
74 
240
32*3/4
75 
240
32*1
77 
210
32*1 1/4
79 
210
40*1
106 
130
40*11/4
110 
130
40*1 1/2
112 
130
50*1
170 
80
50*11/4
172 
80
50*11/2
176 
80
50*2
185 
80
63*11/4
291 
48
63*11/2
296 
48
63*2
301 
46
63*21/2
297 
46
75*2″
572 
27
75*21/2″
584 
27
75*3″
592 
24
90*21/2″
824 
14
90*3″
818 
14
90*4″
828 
14
110*3″
1319 
8
110*4″
1301 
8
FEATURES
1) Light weight, easy to load and unload
2) Good chemicals and drugs resistance
3) Small resistance to fluidity
4) Strong mechanical strength
5) Good electrical insulation
6) Water quality unaffected
7) Simple installation
APPLICATION
1) Structure Engineering
2) Water supply system
3) for Agriculture Irrigation
Main Products
View more products,you can click products keywords…
| | |
| --- | --- |
| PPR Pipe | PPR Fitting |
| PP Union Ball Valve | PP Compression Fitting |
| Clamp Saddle | Solenoid Valve |
| Sprinkler | PVC Ball Valves |
Company Profile
OTHER DETAIL SERVICES FOR YOU
1.Any inquiries will be replied within 24 hours.
2.Professional manufacturer.
3.OEM is available.
4.High quality, standard designs,reasonable&competitive price,fast lead time.
5.Faster delivery: Sample will be prepared in 2-3 days.
6.Shipping: We have strong cooperation with DHL,TNT,UPS,MSK,China Shipping,etc.
FAQ
1.What is your MOQ?
Our MOQ is usually 5 CTNS for size from 20-50mm.
2.What is your delievery time?
The time of delievery is around 30-45days.
3.What is your payment terms?
We accept 30% T/T in advance,70% before shipment .or 100% L/C.
4.What is the shipping port?
We ship the goods to HangZhou or ZheJiang port.
5.What is the address of your company?
Our company is located in the HangZhou, HangZhou ZHangZhoug Province,China.You are welcomed to visit our factory.
6.How about the samples?
we could send you the samples for free, and you need to pay the courier fee.
If there are too much samples, then you also need to undertake the sample fee.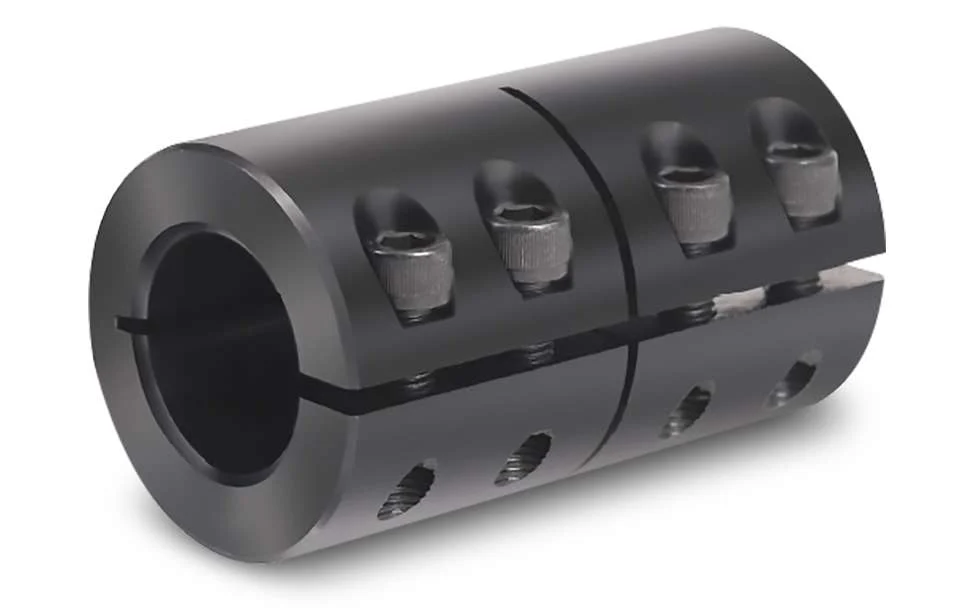 Can Rigid Couplings Handle Misalignment Between Shafts?
Rigid couplings are not designed to handle misalignment between shafts. Unlike flexible couplings that can accommodate slight misalignment through their bending or elastic properties, rigid couplings are intended to provide a fixed and immovable connection between two shafts. As a result, any misalignment between the shafts can lead to increased stress and uneven loading on connected components.
It is essential to ensure precise alignment when using rigid couplings to avoid premature wear and failure of the system. The shafts must be perfectly aligned in both the axial and angular directions before installing the rigid coupling. Proper alignment helps distribute the load evenly and reduces stress concentration on specific areas, such as bearings and keyways.
If a system requires some level of misalignment compensation due to factors like thermal expansion or slight shaft deflection, a flexible coupling should be considered instead. Flexible couplings can tolerate small degrees of angular and axial misalignment while still transmitting torque efficiently and protecting the connected equipment from excessive stress and wear.
In summary, rigid couplings are best suited for applications where precise shaft alignment can be achieved and maintained, while flexible couplings are more appropriate for systems with potential misalignment or other dynamic factors that require some degree of flexibility.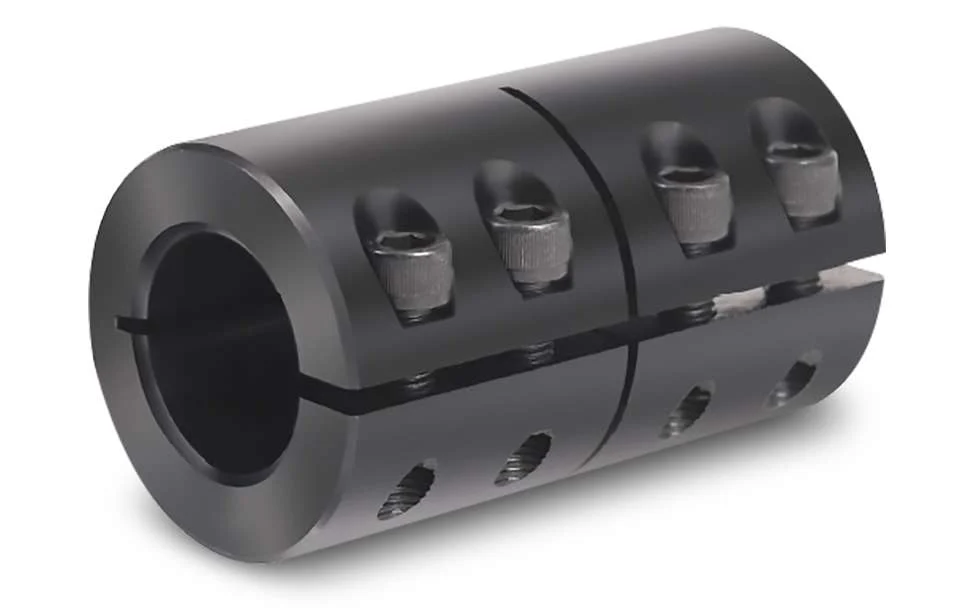 Impact of Rigid Coupling on the Overall Reliability of Connected Equipment
A rigid coupling plays a crucial role in enhancing the overall reliability of connected equipment in mechanical systems. Here's how it positively impacts reliability:
1. Power Transmission Efficiency: Rigid couplings provide a direct and efficient connection between the shafts of the connected equipment. With no flexible elements, there is minimal power loss, ensuring efficient power transmission from one shaft to another.
2. Elimination of Backlash: Rigid couplings have zero backlash, which is crucial in precision applications. Backlash, which is the play or clearance between connected components, can cause inaccuracies in motion control systems. With a rigid coupling, any movement is directly transferred, maintaining precise positioning.
3. Zero-Maintenance Option: Some rigid couplings are designed to be maintenance-free. They do not require lubrication or periodic adjustments, reducing downtime and ensuring continuous operation.
4. High Torque Transmission: Rigid couplings can handle high torque loads, making them suitable for heavy-duty applications. Their robust construction ensures reliable torque transmission without failure or slippage.
5. Resistant to Misalignment: While rigid couplings offer no flexibility, they are excellent at handling axial misalignment and angular misalignment, provided it falls within their design limits. This ability to tolerate some misalignment enhances reliability and reduces the risk of component damage.
6. Vibration Damping: The stiffness of rigid couplings aids in damping vibrations generated during operation. By minimizing vibrations, the coupling helps protect connected equipment from excessive stress and fatigue failure.
7. Increased System Stiffness: Rigid couplings contribute to the overall stiffness of the mechanical system. This stiffness improves the dynamic response of the system and reduces the likelihood of resonance, leading to more reliable operation.
8. Simple and Compact Design: Rigid couplings have a straightforward and compact design, which reduces the chances of component failure or wear. Their simplicity makes them easy to install and maintain, further enhancing system reliability.
9. Suitable for High-Speed Applications: Rigid couplings are well-suited for high-speed applications due to their ability to maintain accurate shaft alignment and transmit torque efficiently.
10. Compatibility with Various Industries: Rigid couplings find applications in a wide range of industries, including automotive, aerospace, manufacturing, and more. Their versatility and reliability make them a popular choice in demanding industrial environments.
Overall, the use of a properly selected and installed rigid coupling enhances the reliability of connected equipment by providing a robust and efficient connection between shafts. It ensures precise power transmission, reduced maintenance requirements, and improved system performance, leading to increased overall reliability and uptime of the mechanical system.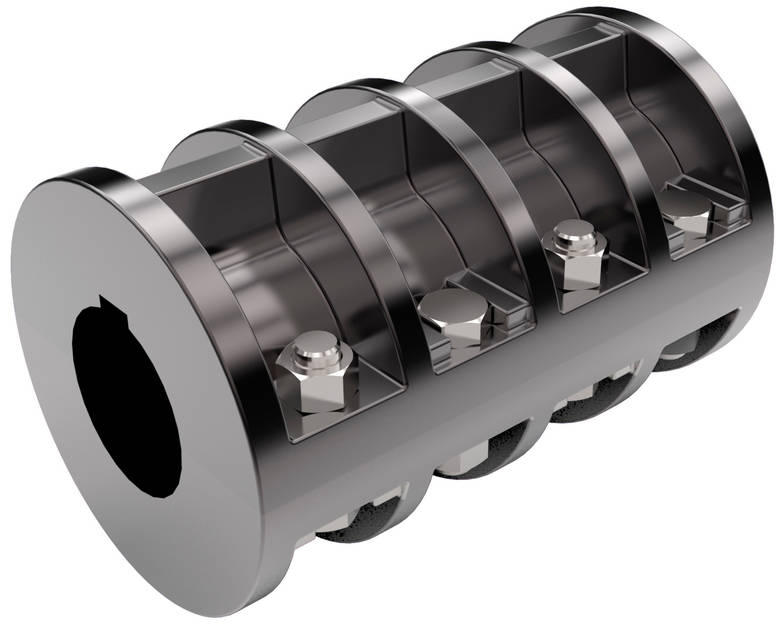 Materials Used in Manufacturing Rigid Couplings:
Rigid couplings are designed to provide a strong and durable connection between two shafts, and they are commonly made from a variety of materials to suit different applications. The choice of material depends on factors such as the application's environment, load capacity, and cost considerations. Some common materials used in manufacturing rigid couplings include:
1. Steel: Steel is one of the most widely used materials for rigid couplings. It offers excellent strength, durability, and resistance to wear. Steel couplings are suitable for a wide range of applications, including industrial machinery, automotive systems, and power transmission.
2. Stainless Steel: Stainless steel couplings are used in applications where corrosion resistance is crucial. They are well-suited for environments with high humidity, moisture, or exposure to chemicals. Stainless steel couplings are commonly used in food processing, pharmaceuticals, marine, and outdoor applications.
3. Aluminum: Aluminum couplings are known for their lightweight and corrosion-resistant properties. They are often used in applications where weight reduction is essential, such as aerospace and automotive industries.
4. Brass: Brass couplings offer good corrosion resistance and are commonly used in plumbing and water-related applications.
5. Cast Iron: Cast iron couplings provide high strength and durability, making them suitable for heavy-duty industrial applications and machinery.
6. Bronze: Bronze couplings are known for their excellent wear resistance and are often used in applications involving heavy loads and low speeds.
7. Plastics: Some rigid couplings are made from various plastics, such as nylon or Delrin. Plastic couplings are lightweight, non-conductive, and suitable for applications where electrical insulation is required.
It's essential to consider the specific requirements of the application, including factors like load capacity, operating environment, and cost, when choosing the appropriate material for a rigid coupling. The right material selection ensures that the coupling can withstand the forces and conditions it will encounter, resulting in a reliable and long-lasting connection between the shafts.



editor by CX 2023-08-15